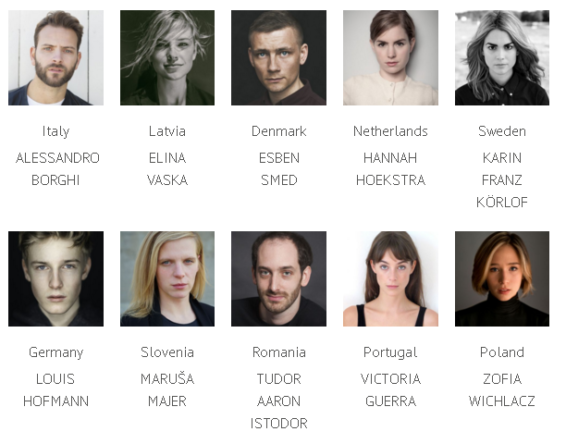 European Film Promotion (EFP) proudly presents its ten up-and-coming actors for the annual actors' showcase during the Berlin International Film Festival 2017, as it celebrates its 20th year.
For the 20th edition of EUROPEAN SHOOTING STARS the jury of industry experts has selected the ten most gifted performers, that will be presented to film industry, public and international press during the opening weekend of the 67th Berlin International Film Festival (February 9 – 19). The event culminates in the awards ceremony at the Berlinale Palast on Monday, Feb 13 where each talent will be presented with the EUROPEAN SHOOTING STARS Award donated by Tesiro. European Film Promotion's first and most prolific talent platform, is financially supported by the Creative Europe – MEDIAProgramme of the European Union and the respective EFP member organisations.
In this year's group of outstanding new talent from Europe the youngest have already been cast in current Foreign Language Oscar submissions: much lauded 21-year-old Zofia Wichłacz from Poland in Afterimage by late director Andrzej Wajda and German Shooting Star Louis Hofmann (19), who received numerous awards for his performance in the Danish Oscar submission Land of Mine. An honor shared by charismatic Alessandro Borghi, who starred in the Italian entry Non essere cattivo (Don't Be Bad) in 2015. Joining them is Dutch actress Hannah Hoekstra, whose "refined acting skills" earned her success in film, television and theatre alike, with already five Best Actress awards to show for. Just as versatile is Tudor Aaron Istodor from Romania, whose "sensitive naturalism and warm humanity" impressed the jury.
Her fearless acting and his edgy intensity recommended Maruša Majer from Slovenia andEsben Smed from Denmark to stand out among the 26 nominees for EUROPEAN SHOOTING STAR 2017. Portuguese actress Victoria Guerra has already worked on international films with the late director Andrzej Zulawski in Cosmos (2015) and starred beside Mathieu Amalric in À Jamais (2016). Karin Franz Körlof stepped out into the limelight with her critically acclaimed leading role in A Serious Game (2016) by Pernilla August, which premiered at this year's Berlinale. Likewise the Latvian film Mellow Mud, which won the Crystal Bear for Best Film in the Generation 14plus at the Berlinale 2016, saw the debut of soulful and subtle actress Elīna Vaska (22).
During the four day Shooting Star event in Berlin (Feb 10 – 13, 2017), the ten actors will take part in a tailormade programme of profile-raising workshops and meetings with influential members of the International Casting Directors Network (ICDN), filmmakers and other important industry players, alongside interviews and photo-shoots with international media. The weekend provides them all with the significant and timely exposure their emerging talent deserves.
Being a European Shooting Star puts them in the first row of young performers to be considered for international productions. Like Danish actor Pilou Asbæk, who first met casting directors Lucinda Syson (UK) and Avy Kaufmann (USA) during the European Shooting Star event in 2011. Following this important encounter Syson cast him as Pontius Pilate in Ben Hur (2016) by director Timur Bekmambetov, while Avy Kaufmann makes him star beside Kirsten Dunst in the psychological drama Woodshock, which will be released in 2017.
As member of this year's jury Lucinda Syson, responsible for casting blockbusters likeBatman Begins and Matthew Vaughn's Kick-Ass, comments on the importance of the programme: "The event has become one of the most prestigious platforms for discovering and encouraging incredible new talent across Europe and I am honoured to be a part of the jury. My fellow colleagues in the International Casting Directors Network value this event so much as it provides us with a unique opportunity to meet the actors in one place. We can then put them forward for projects whereas we may never have previously considered them."
Further members of the 2017 jury are: former Shooting Star Dorka Gryllus from Hungary, director Xavier Koller from Switzerland, Portuguese producer Pandora da Cunha Tellesand Swedish film critic and writer Jan Lumholdt.
More information here.